---
---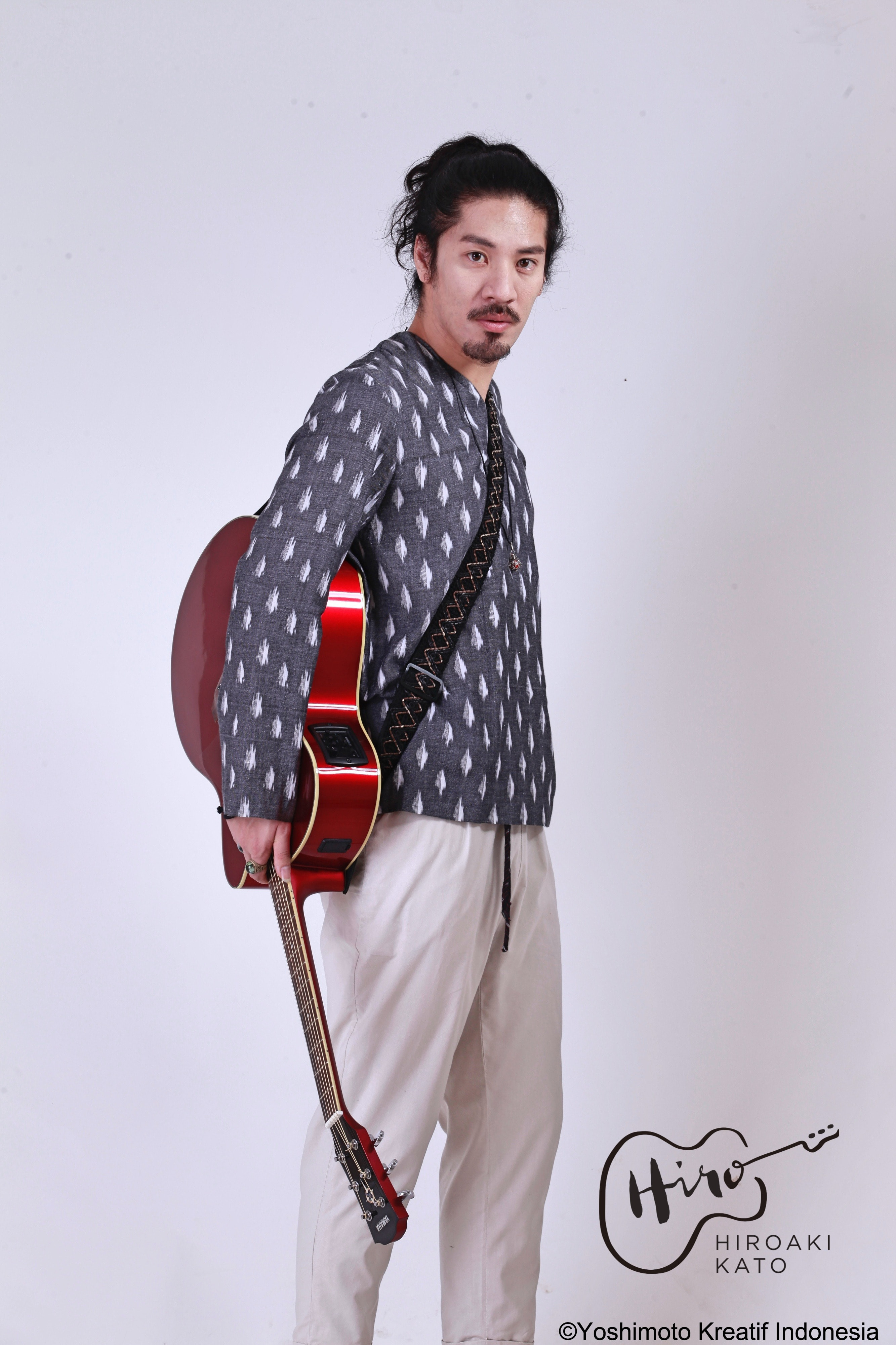 Hiroaki Kato, 9th March 1983, Born in Tokyo
Yoshimoto Kreatif Indonesia
Musician・Actor・MC・Talent・Interpreter・Translater
In 2006, Hiroaki Kato lived and studied at Yogyakarta, Indonesia for one year.
At that time, there was a huge earthquake in Central Java and more than 6000 people were lost.
Hiroaki Kato volunteered himself as a musician to entertain people that suffered by the disaster along with other Indonesian universities organizations.
During his stay, he involved in many entertaiment related activites,
for instance doing live music performances, radio announcing, MC,
and made an appearance in one of Indonesia's independent movie.
After he finished his study in Yogyakarta,
he went back to Tokyo to earn his master degree in linguistic
and started his carrier as musician, actor, Indonesian language lecturer, translator, and also as an interpreter.
◆As a Musician
Hiroaki Kato release his first album "HIROAKI KATO" in Indonesia on 9th March 2017. Since he moved from Tokyo to Jakarta in 2014,
he begun his carrier by doing live performance from stage to stage.
After 3 years working in Indonesia,
Hiroaki Kato thought that now is the time to launch an album.
There are 10 powerful songs in this album that each song has its own uniqueness and character.
Single "Terima Kasih" became the representative song of Hiroaki Kato.
All things that he wanted to say to his family, friends, and fans is in
this song's lyric.
Furthermore, the uniqueness of this album is that he sings with 3 languages, Indonesian, Japanese, and English.
Each song is colorful and has different character and mood, that is what makes people don't get bored by listening this album.
Hiroaki Kato wishes that this album could be an inspiration and be a part of Indonesia music industry.
After Hiroaki Kato launched the album, he is now having a lot of upcoming live performance in Japan and several cities in Indonesia.
HIROAKI KATO officially sing a Japanese version of theme song Asian Games 2018 Jakarta Palembang and Asian Para Games 2018 (Bright as The Sun, Meraih Bintang [Hoshi wo Tsukame], Song of Victory [Shori no Uta]).
◆As a MC / Actor / Interpreter / Translator
In 2013, Hiroaki Kato translated one of the Indonesia's best selling novel
"Laskar Pelangi" by Andrea Hirata into Japanese language which sold 5,000 copies.
He also translated COWCOW 's (Yoshimoto Japan Comedian) song called : "Senam Yang Iya Iyalah".
Hiroaki Kato's specialty as MC is that he can do 3 languages ; Indonesian, Japanese, and English.
His early job was in 2014 when he became the presenter of Indonesia's travel TV program called "Indonesia Banget" on RTV station.
He remains active on appearing in Indonesia TV Programs.
He is one of the presenter in "Quiz Surprise Japan" on Waku Waku Japan Channel and hosted "Roaming" on TRANS TV Channel.
And now he host "JIPHORIA" (Japan Indonesia Euphoria) on METRO TV channel.
◆Live Performance & Collaborations
Hiroaki Kato collaborates with some of Indonesian artists.
In his album he did a cover song from Letto called "Ruang Rindu"
and sang with Noe, the vocalist in Indonesian and Japanese.
He did duet with Arina from Mocca in one of Japanese popular song of all time
"Nada Sou Sou" in Hiroaki Kato album.
He also performed with Tulus and sang his song in Japanese.
He translates Tulus' song called "Sepatu" into "Kutsu".

,hiroakikato39,standard,{"version":2,"widgetId":"be530ff7-e8d6-43c2-b70e-50ba9bfcbdae","type":"profile","width":"100","height":"450","interval":6000,"rpp":"6","theme":{"shell":{"background":"333333","color":"ffffff"},"tweets":{"background":"000000","color":"ffffff","links":"4aed05"}},"features":{"avatars":false,"hashtags":true,"timestamp":true,"scrollbar":true,"live":false,"loop":false,"behavior":"all"},"wUnit":"%","hUnit":"px","oem":"0"}